You may or may not know that MAY is #BikeMonth. What is a more iconic sign of spring heading into summer than taking a bike ride? During a recent post on this blog featuring the wonderful PB by Teresa Robeson TWO BICYCLES IN BEIJING, I asked readers the question about their favorite memory from childhood involving a bike.
Mine involves the one and only bicycle I had as a kid – a turquoise Columbia bike with a white and turquoise vinyl seat, and wire basket in the front for carrying whatever treasures I deemed necessary for a ride. I got the bike for my twelfth birthday. Up until that time, after graduating from a tricycle at 5 or 6, I was bikeless. So, it wasn't until the ripe old age of twelve, that I learned to ride a two-wheeler.  That's not something you're likely to forget. Didn't take long to master it, and once I did, there was no going back. I loved that bike and rode it everywhere.
I only have one faded black and white photo of the bike. But here is what it looked like…at least this is what I remember it looked like from this internet photo. Pretty sweet, huh?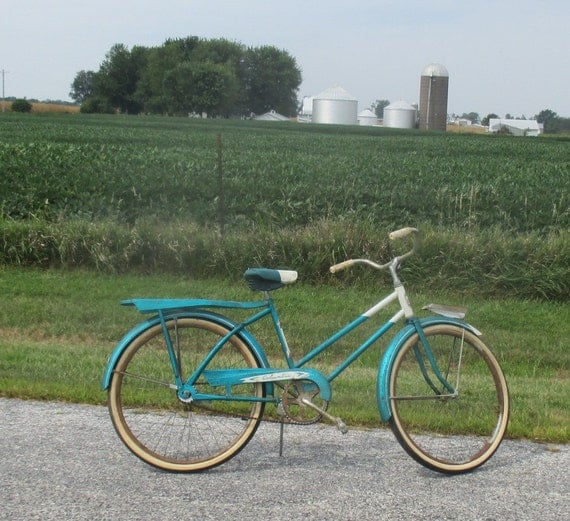 So now that we are getting back out into the world again post-virus, how about sharing some of your favorite childhood bike adventures?
Here is a share of sorts: the main character from my new MG WISHES, DARES, AND HOW TO STAND UP TO A BULLY discovers his Dad's old bike while he is visiting his grandparents house. Do these next few poems bring back any memories of your childhood biking days?
BIKE
I find a bike, a red Schwinn,
covered in cobwebs in Pops' shed.
One flat tire and the chain needs oil.
A polish with some of Pops' car wax
brings back the shine.
A Joe DiMaggio baseball card is clothespinned
to a spoke on the back wheel, like my bike
at home, with a picture of
Mickey Mantle in the same place.
Can I ride it, Pops?
You bet, he says.
Your dad rode that bike everyday until
he got a car.
Pops chuckles when he tells me
the bike has a name.
Flash
Todd rode like a Flash all over town.
I stare at Pops. He can't see me
because he's remembering,
watching Todd,
Dad,
ride Flash.
RIDE
I take Flash for a ride,
gliding through the air like
a warm knife glides
through butter. The seat
feels like my butt has been there before.
I pedal until my legs
are
on
fire.
Going everywhere
nowhere
anywhere
but here.
What would happen if I rode forever?
Would I stop thinking about Dad?
Would I stop missing our house
and the fort Dad helped me build
in the backyard?
If I rode backwards
Could I go back in time
to when everything was
boring
dumb
ordinary?
Why did I complain
when things were so good?
 
Why do I only miss something
once it's gone?
GIRL
I streak past a bike on the side of the road,
pink and purple streamers on
the handlebars. Where's
the girl who rides?
I stop, look around a field
filled with wildflowers.
In the middle, a girl as wild as a bird
spins
dances
jumps
through the tangle of blooms,
a fistful in one hand. She
stops
waves
shouts hello
as she runs up to me.
My name is Jill.
Jack, I say.
She giggles as she sings
that old rhyme that has our names.
When she's done singing, she
smiles and says, Don't
expect me to
tumble
crumble
or fumble.
I'm
not that kind of
girl.
What kind of boy or girl were you when you rode your childhood bike?
Happy #BIKEMONTH.