Close your eyes and take a trip back to your childhood. No matter what age you are, wasn't there a time when getting a brand new box of 64 colors Crayola crayons rocked your world? The smell of new crayons, fresh from the box, the array of colors begging to be used, awaiting your creativity. It is hard to find someone who hasn't used, enjoyed, or created something special with crayons.
Today is NATIONAL CRAYON DAY. To celebrate, I thought I'd share a few fun things about these magic wands of creativity.
THE FIRST BOX OF CRAYOLA CRAYONS MADE IN 1903 COST ONLY A NICKEL AND INCLUDED THE COLORS RED, ORANGE, YELLOW, GREEN, BLUE, VIOLET, BROWN, AND BLACK. When I bought my first box of crayons, this 8 Pack cost a quarter.
IT'S BEEN SCIENTIFICALLY PROVEN THAT THE SMELL OF A CRAYON IS UNIVERSAL. A study done by Yale on the 20 most recognizable scents ranked crayons number 18.
THE AVERAGE CHILD WEARS DOWN 720 CRAYONS BY THEIR TENTH BIRTHDAY. Talk about creativity…I'm willing to bet many of those crayons were used to make "I LOVE YOU" cards for parents.
CRAYOLA MAKES 3 BILLION CRAYONS A YEAR. That's enough crayons to circle the world six times!
AMERICA'S FAVORITE CRAYON COLOR IS BLUE. We like it so much that the top ten favorites included these other shades of blue: cerulean, midnight blue, aquamarine, periwinkle, denim and blizzard blue.  
Big Blue is the world's largest crayon.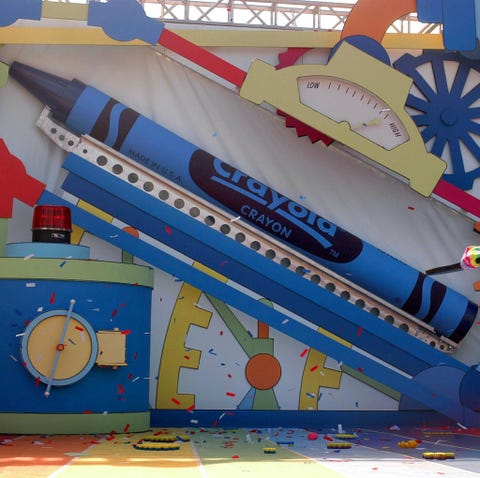 The giant was made from 123,000 leftover blue crayons collected from kids around the nation. It weighs a whopping 1,500 pounds and is almost 16 feet long!
Crayons are so popular, books have been written about them:
For ideas on how to enjoy the magic of crayons, visit: https://www.crayolaexperience.com/
THREE CHEERS FOR CRAYONS... Long may they continue to inspire creativity.